Friday Motivational Quotes with Images
Friday rocks! Friday symbolizes the end of the work week or school week and kick-starts the weekend. No matter if you're in college or at work, knowing that the weekend is just around the corner simply feels good.
Most people look forward to the weekend with a smile and excitement. You've probably been going to bed early from Monday to Thursday. But on Friday, you get the choice to go to bed at whatever time you want, you party and hang out with friends, knowing you do not have to wake up early the next day.
This collection of motivational Friday quotes will help you reflect on an amazing week and help you start your weekend in the right mood. They will motivate and inspire you to hit the gym, write that blog post you've been working on, or just sit back, relax, and enjoy being alive.
60 Funny and Motivational Friday Quotes and Sayings (+Images)
"If my boss knew how unproductive I am on Fridays, he wouldn't want me here either." —James Johnson
"Friday is a day to finish your goals for the week. It is a day to celebrate that which you set out to accomplish at the beginning of the week." —Byron Pulsifer
"Friday the 13th is still better than Monday the whatever." – Unknown
"I don't care if Monday's blue, Tuesday's gray and Wednesday too. Thursday I don't care about you. It's Friday I'm in love." —The Cure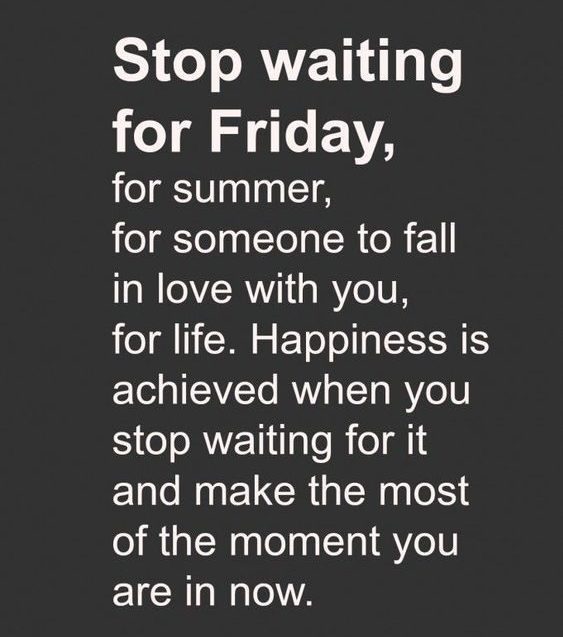 "Friday sees more smiles than any other day of the workweek!"—Kate Summers
"There's just one legitimate synonym for Friday: Boom Shakalaka." – Unknown
"When you start to do the things that you truly love, it wouldn't matter whether it is Monday or Friday; you would be so excited to wake up each morning to work on your passions." – Edmond Mbiakading
"I challenge you to let every day be a Friday. Give yourself permission to be happy every day." – Joel Osteen
"It's Friday morning mankind! Good vibe, don't frown and let the monster see you smile!" —Napz Cherub Pellazo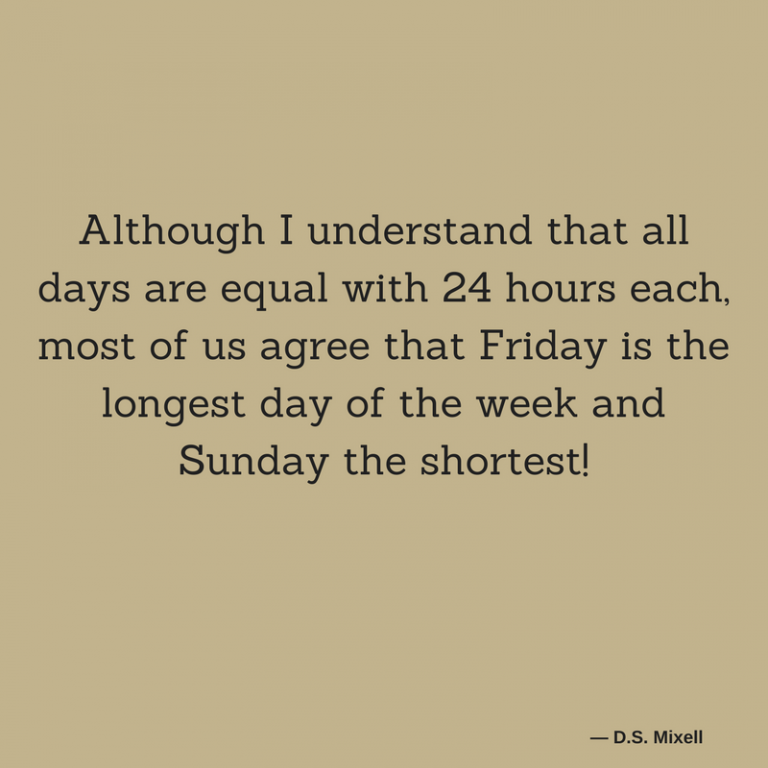 "Every Friday, I like to high five myself for getting through another week on little more than caffeine, willpower, and inappropriate humor." —Nanea Hoffman
"I look forward to Fridays because I know I have spent the week offering encouragement, solace, assistance and good-will to everyone I have met through my journey." – Byron Pulsifer
"Friday's a free day. A woman's day." – Neil Gaiman
"Don't be pushed by your problems. Be led by your dreams." – Ralph Waldo Emerson
"People wait all week for Friday, all year for summer, all life for happiness." – Raimonda.B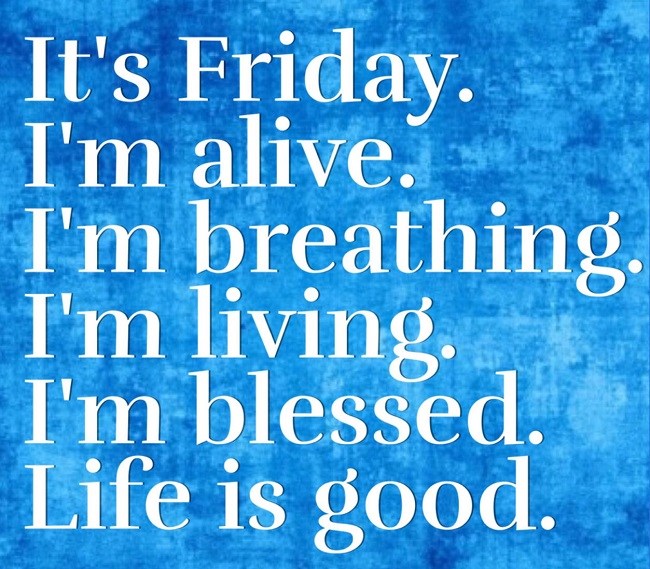 "Music always sounds better on Friday." —Lou Brutus
"Friday is my second favorite F word. Food is my first" —Anonymous
"Put your pencils down and close your books. No more teachers, no more school, you are free! Go lay down in the sun or watch a movie. It's Friday, You deserve a break." – SayingImages
"Who cares about Thursday's happy hour when Friday is upon us?"- Unknown
"It's Friday! Time to go make stories for Monday." —Anonymous
"Don't wait all week for Friday so you can enjoy life. Find a job you love so you can enjoy every day of the week." – Catherine Pulsifer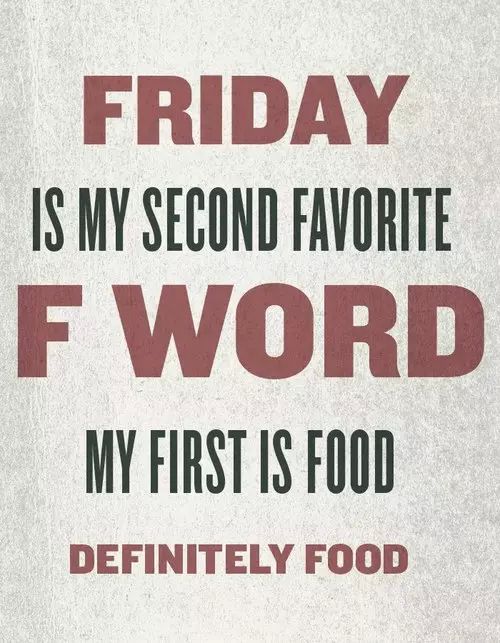 "This Friday, finish your work and be done. Look forward to the weekend and have some fun!" —Kate Summers
"That which has been promised comes to those who look forward to Friday. These are the achievements made possible through perseverance and focus." – Byron Pulsifer
"On a Friday night, I like to go out because my friends, who have been working normal hours, just want to let go after a stressful week at work." —Douglas Booth
"Friday is like a green light; you speed up until after work and start to slow down once the light turns yellow." –Unknown
"Although I understand that all days are equal with 24 hours each, most of us agree that Friday is the longest day of the week and Sunday the shortest." —D.S. Mixel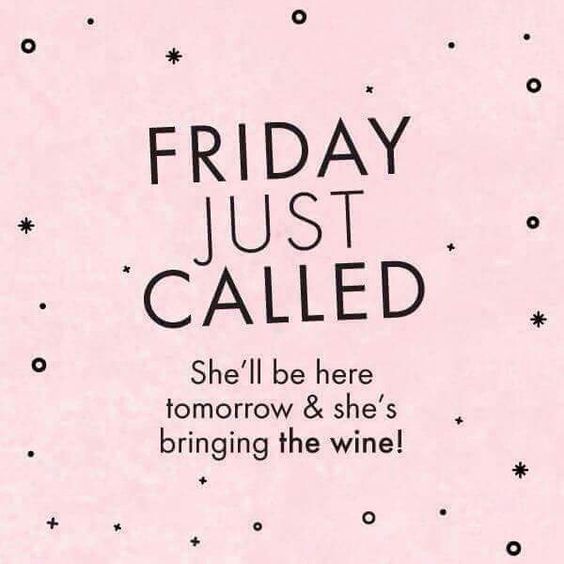 "There are no perfect people who can say to the world, 'I don't need anybody else.' We need each other. We were made to work in teams!" – Rick Warren
"It's finally Friday, I'm free again. I got my motor running for a wild weekend." —George Jones
"It's always difficult to keep Fridays confined within themselves… they tend to spill over…"- Parag Tipnis
"I have never in my life found myself in a situation where I've stopped work and said, 'Thank God it's Friday.' But weekends are special even if your schedule is all over the place. Something tells you the weekend has arrived and you can indulge yourself a bit." – Helen Mirren
"Friday afternoon feels like heaven." —El Fuego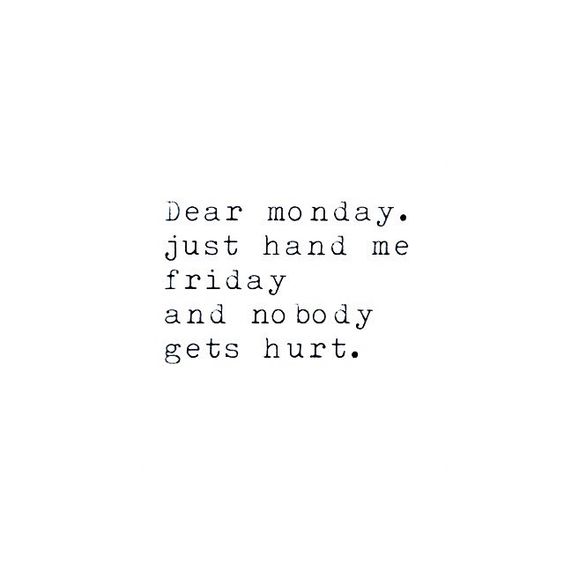 "You can, you should, and if you're brave enough to start, you will." – Stephen King
"For most Americans, Friday afternoons are filled with positive anticipation of the weekend. In Washington, it's where government officials dump stories they want to bury." – John Sununu
"Your mindset has a direct impact on how you perform in life as well as the quality of the results you get." – Ian Wallace Harper
"It's Friday night. Time to be a hero and rescue some wine trapped in a bottle." —Anonymous
"How do you know it's Friday? Look at everyone around you counting down the seconds until the weekend starts." –Unknown
"Making food is a wonderful way to spend a Friday night." – Chrissy Teigen
"I've taught fifth-year Christmas leavers last thing on a Friday afternoon. Basically, if you can face that you can face anything." – Johann Lamont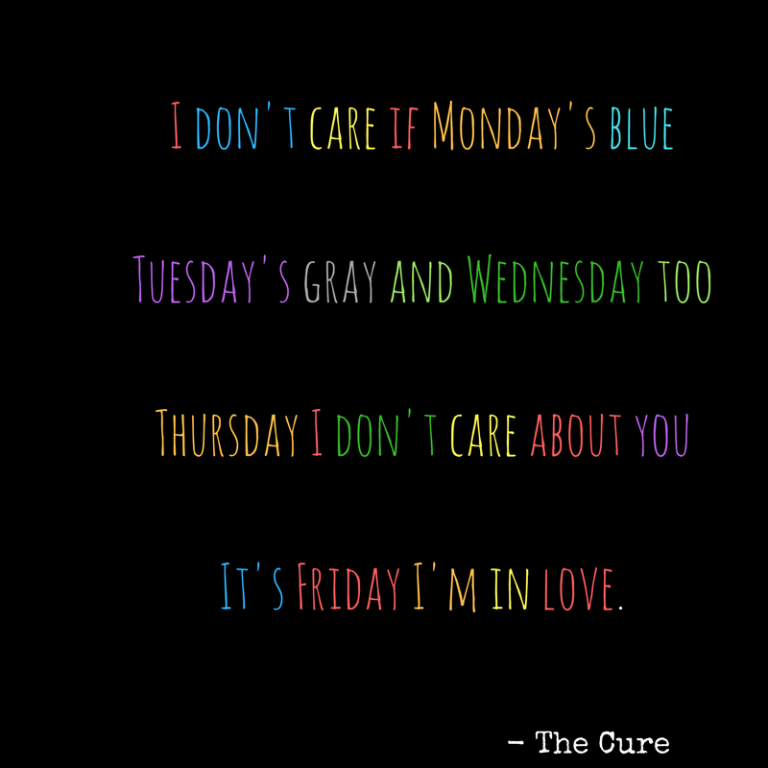 "Oh! It's Friday again. Share the love that was missing during the week. In a worthy moment of peace and bliss." —S. O'Sade
"The only time you fail is when you fall down and stay down."- Stephen Richards
"Every day may not be good… but there's something good in every day."- Alice Morse Earle
"Fridays are the hardest in some ways: you're so close to freedom." —Lauren Oliver
"Youth is like a long weekend on Friday night. Middle age is like a long weekend on Monday afternoon." – Richard Nelson Bolles
"Weekends are a bit like rainbows; they look good from a distance but disappear when you get up close to them." —John Shirley
"If you give up on your dreams, what's left?" – Jim Carrey
"I know everyday is a gift but where are the receipts for Mondays? I want to return it for another Friday." –Unknown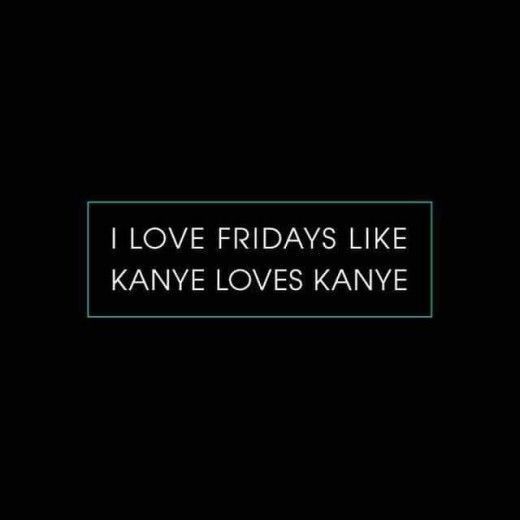 "Employers are at their happiest on Mondays. Employees are at their happiest on Fridays." —Mokokoma Mokhonoana
"Why is Monday so far away from Friday but Friday is so close to Monday?" – Unknown
"Hands up if you're ready to do something you'll regret this weekend. Go forth! You have my blessing." – Florence Welch
"Friday is about hanging out with friends, having fun." —Rebecca Black
"When you leave work on Friday, leave work. Don't let technology follow you throughout your weekend (answering text messages and emails) take a break you will be more refreshed to begin the workweek if you have had a break." —Catherine Pulsifer
"The first step is you have to say that you can." – Will Smith
"Positivity always wins…Always." – Gary Vaynerchuk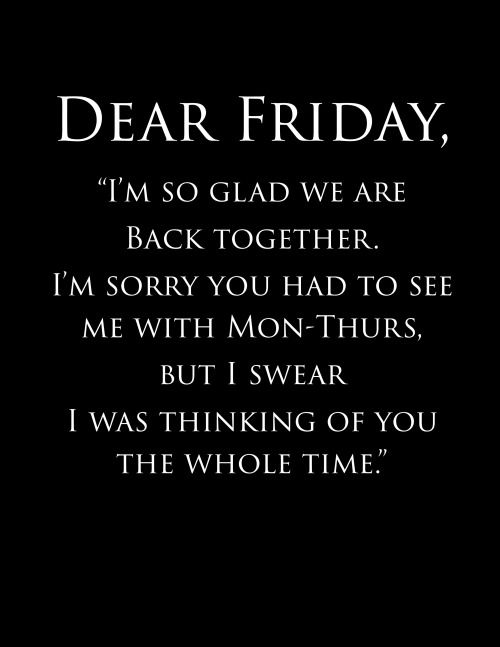 "Make each day of the week like Friday and your life will take on new enthusiasm." – BYRON PULSIFER
"Happiness is not a station you arrive at, but a manner of traveling." –Margaret Lee Runbeck
"Change your way of thinking. Use your energy to accomplish more productive things. The choice is yours and it can be made today!" – Garrett Kingston
"How high you fly is derived from how big you think." – Robin Sharma
"Thursday doesn't even count as a day, it's just the thing that's blocking Friday." – Unknown
"Live life to the fullest and focus on the positive." – Matt Cameron
"Happiness is not something ready-made. It comes from your own actions." – Dalai Lama
"Associate with people who are likely to improve you." – Seneca